Glass House Graphics Asia @ KOMIKON 2006 this Oct 21, 2006
UPDATE : Thursday, October 19, 2006
David Campiti and Glass House Graphics will be at the 2nd Philippine Komiks Convention this October 21, 2006 in University of the Philippines, Bahay ng Alumni, from 10AM to 8PM

David Campiti will conduct a one-on-one portfolio review, and talent search and choose lucky participants to join in their international team of professional comics artists. Glasshouse Graphics Inc., represents an impressive pool of talents of over 100 worldwide, led by Brazilian artists Mike Deodato ( penciler of Spider-Man, Batman, Wonder Woman etc., ) and Luke Ross ( penciler of Uncanny X-Men, Lost in Space, etc .); and Filipino artists in the name of Wilson Tortosa ( penciler of Battle of the Planets, Tomb Raider, etc. ), Carlo Pagulayan ( penciler of Elektra, Emma Frost, Hulk, Fantastic Four etc .) and a many more artists known for their exceptional talents in the field of Arts and Comic Book illustration.

We invite you once again for this Annual Comic convention and lets gather all together to celebrate the 120 years of Comics in the Philippines.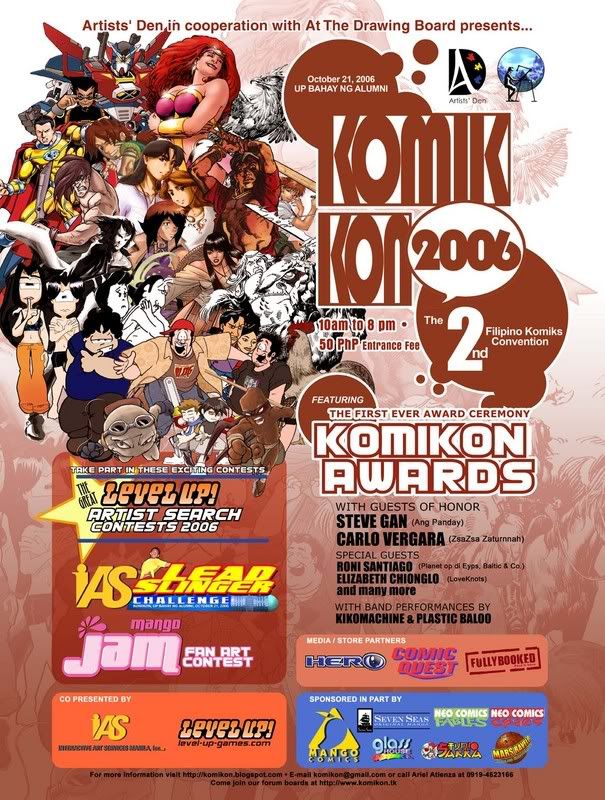 Website: http://komikon.blogspot.com/

MAP : http://komikon.blogspot.com/2006/10/how-to-get-to-komikon.html

Entrance Fee of the Event : P50